We have been back in the tribe here in PNG for over 4 months already!
It is IMPOSSIBLE for us to continue with this update without saying "THANK YOU" to each and every one of you, individuals and churches, who have helped us get back here. Many of you have continued with your faithful financial support and prayer support. THANK YOU! And many of you also responded to our lists of needs and wants, and I kid you not, the Lord provided EVERYTHING off of those lists, from a generous soul giving us a new school laptop for the girls, to the generous souls who gave and said "pick stuff off of your needs AND wants lists from us!" And others gave generous financial gifts, both individuals and churches, and I believe the Lord knew in advance that we would need those as we had some unexpected expenses when we returned, such as a dead chest refrigerator! So THANK YOU for responding to His heartbeat in you and giving special gifts during that time!
In mid-July, our temporary homeschool teacher, Ashtin, flew to Australia and we met up with her there, and we all flew to PNG together. She got to experience a supply buy with us, and we headed into the tribe. After 3-4 days of settling in, she began the girls' homeschool year (5th and 3rd grades). She says she had a wonderful time and learned a lot, and she was sure a blessing to us. It was great to see her experience firsthand what Tigak life is like, and she got to see what overseas missions look like.. as in, we are all normal people, sinners saved by grace, just simply being willing to be used by God in this place! Ashtin flew home in mid-August, and we have carried on since then. I won't lie, the day she left, I instinctively took out 5 plates at lunch time, and then felt woefully sad when I realized my error. But we are happy for her and how the Lord is continuing to lead and direct her footsteps. Thanks, Ashtin!
So let's get real here. It's very different not being in CLA (Culture and Language Acquisition) anymore.. we no longer have such tangible daily goals as "Spend 8 hours a day learning language and culture". Now we are freed up to be a part of discipling believers. "So what does that look like exactly?" That is the question we ask ourselves daily, and for the big picture. We continually seek His guidance as a family and as a team in how He would use us while we are still here full-time. In what ways ought we to teach and equip believers (Bible teaching, literacy, etc), and ultimately teach them to teach others? In what ways ought we to involve ourselves in the more casual ins-and-outs of daily life here? And in what ways are we modeling 'Christ in us' to the community around us? For us, not having such clear direction in ministry as we did before can be difficult at times. So we'd ask you to join us in asking the Lord to encourage and guide us daily, and the same for our coworkers, the Bealls and Aimee.
If you got our newsletter, you would've read about our desire to "make the most of every opportunity". Here is a list of many opportunities we have had and continue to have here in Tigak! We hope you will enjoy taking a few minutes to read about what is going on here.
---
"…making the most of every opportunity…"
We are excited to share that quite a few people sat through the evangelistic teaching (from creation through the ascension of Christ) over the past few months. It is just about finished, and it looks as though we have several new brothers and sisters in Christ! We look forward to sharing more about this as the teaching finishes up and we hear testimonies from them! And please pray for the follow-up and additional teaching that will take place for all of these new believers.

Noe meets regularly with our one national elder of the Tigak church, to read and study the Word together, and to prepare Biblically solid lessons to teach in the church meetings. He's also looking forward to upcoming opportunities to involve other believing men in this kind of studying and enjoyment of God's Word.

Lisa homeschools Naya and Jocie daily, and has a renewed sense of fulfillment in being at home caring for Noe, the girls, and the house (Titus 2). She's able to share about this Biblical perspective with the believing (and unbelieving) ladies when she and the girls spend time out in the village. She is also considering what kind of marriage and parenting discipleship the Lord would have her be involved in and when/how that should happen.

Naya and Jocie love when their friends cook with them! They all cook outside over a fire, often cooking rice, leafy greens, canned tuna or fresh fish, or 'cooking bananas.'

Naya and Jocie also are an active part of helping the community by giving out bandaids and helping give medicine to those who come knocking each day.

When any/all of us are out in the village, we are looking for opportunities to chat with believers or unbelievers and share in some of their daily activities. These casual times are good for solidifying relationships and drawing attention to God's involvement in the details of our day-to-day lives.

Noe is excited about some of the young men: there are a couple new believers among them who have a passion for the Word of God and a desire to take the clear teaching of His Word back to their village on another island! Noe is eager to see how he can come alongside of these guys and be a part of discipling them. We continue asking the Lord to raise up more elders for the Tigak church. We don't know how He plans to do this, but we are thrilled to be involved however He would have us be!

We are both working on looking into existing Biblical resources and considering what resources could be created to leave for the Tigak church as they continue to grow and hopefully expand to neighboring islands.

Lisa is encouraged by the response of many of the believers to many of the letters written by many of you who committed to pray for individual believers**(see note below)! A couple of them have already written letters in response, and several more have expressed all on their own a desire to respond. But more importantly, they've shared with us how your letters and prayers have encouraged them and also amazed them, opening their eyes to the global Body of Christ. She continues to translate your letters, deliver them, and follow up with new prayer requests.

Noe had the opportunity to go to the regional multi-church conference last week along with about a dozen Tigak believers. He reports that the conference was a big encouragement to the believers (and last week at the church gathering, many of them shared things they were encouraged or challenged by) from Tigak and from the other tribes as well. He is excited also to see the continuing growth of the network of these churches, and is glad to be a part of the Lord's work here in this region.

We're glad for the opportunity we've had recently to help our coworker Ned with one of the many steps of Bible translation work. Lisa is also looking forward to getting more involved with translating some Old Testament passages in the near future.

Please pray for us as we continue to seek out opportunities He puts before us in the many, many areas of discipleship.
**=If you would like to commit to praying for a Tigak believer, please shoot us an email and we'd LOVE to get you connected with someone! A single man or woman, a couple, or even a child! Email us here: noelisa_martinez@ntm.org
---
FAMILY NEWS:
In September, Naya turned 11, and Jocie just turned 9 a couple weeks ago! Time is going SO fast. They tell you that when your kids are toddling about causing trouble.. they say "Don't blink! It'll go so fast!" Well, even though that kind of advice may not be timely for a mom who is struggling with her sanity with a 2 or 3-year-old… it sure is relevant now! It's scary, guys. We celebrated their birthdays here in the tribe with our coworkers. Following each of their birthdays, we planned a supply buy in town, and celebrated their birthdays again with some expat families we've been getting to know in town. We are wanting to be intentional to build some relationships with folks in town when we are there, both for encouragement for our girls (playmates!), and because they are in need of the Gospel of grace as well!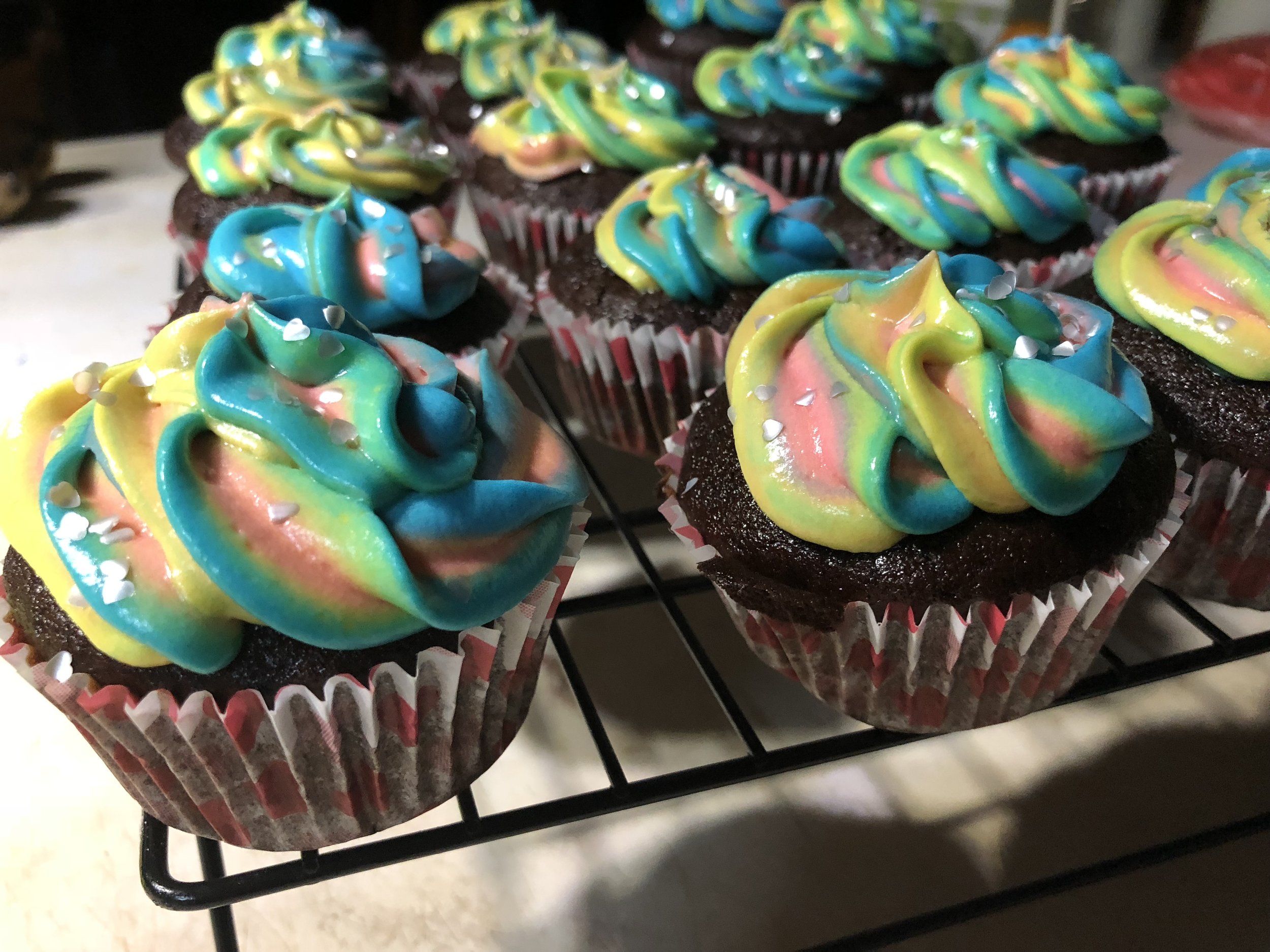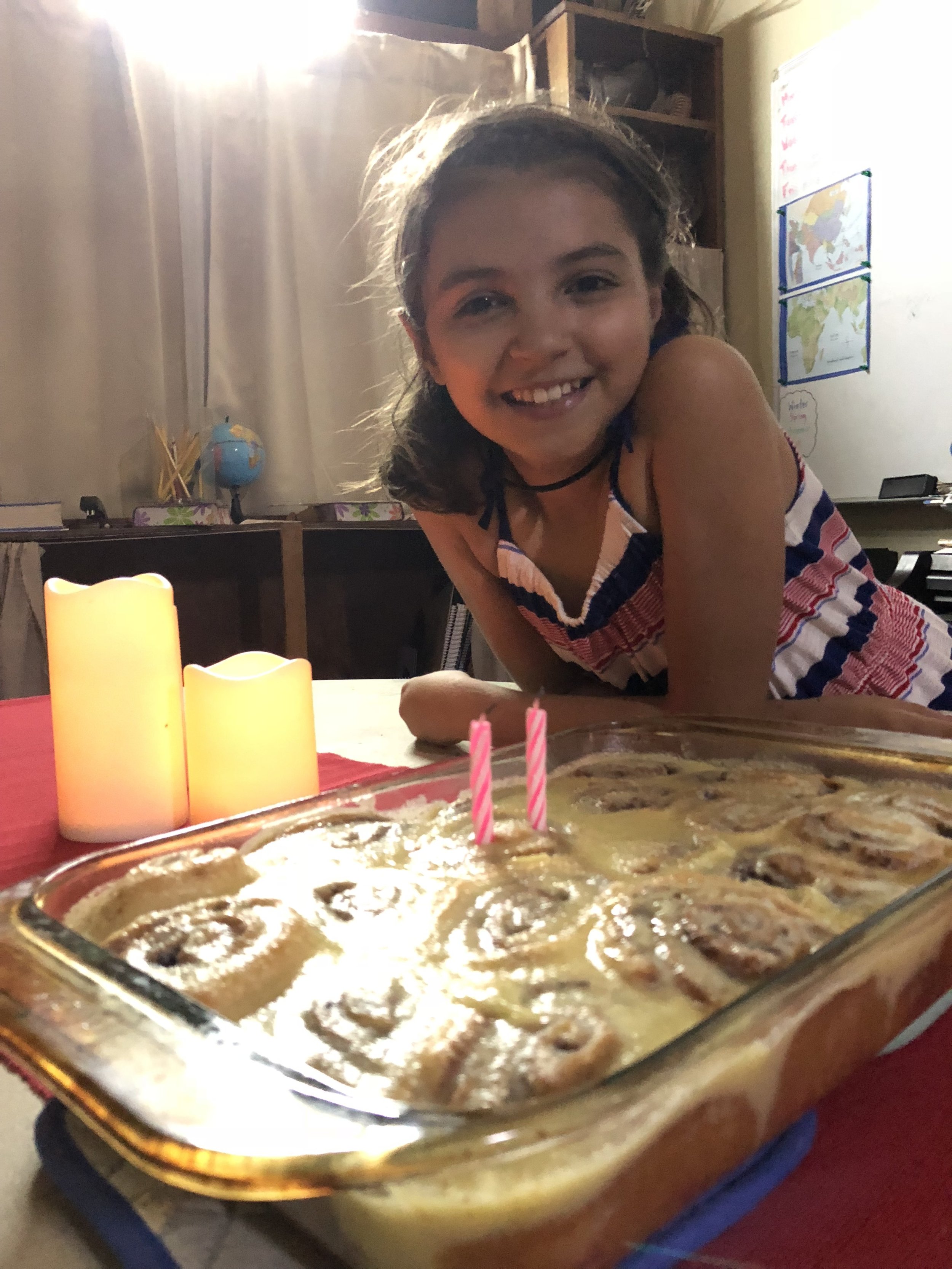 Thank you for all of your encouragement, and your faithfulness to support us so we can be here among the Tigak people of PNG. Despite the ups and downs, we have not had ANY doubts that the Lord has us here in this place at this time for this purpose.
Le, giro! (Alright, thanks!)