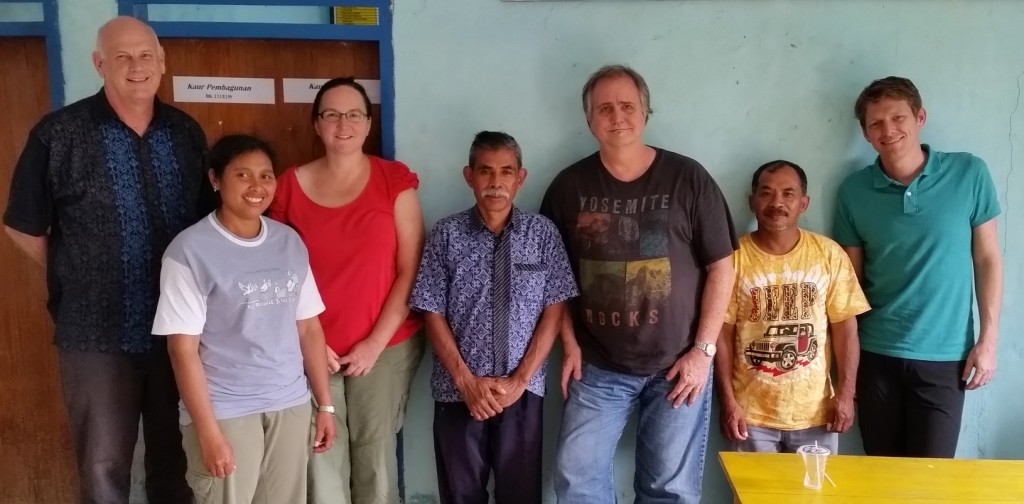 Teamwork
Missionary work is not accomplished by one person working alone. This was very clear on our recent consultant trip to Asia Pacific. Not only do missionaries need help, but those who help them need training…
Let us tell you a little about each person in the photo above:
THE MISSIONARY: Rofi (gray and white shirt) is a missionary, one of a team who are learning the Da'a language so she can share the Gospel and make disciples. Rofi, like many of her teammates, is a believer from the Wana tribe. Not so long ago, the Wana were an unreached people group. Missionaries from NTM took the Gospel to the Wana and now Rofi and many of the other missionaries Bill was helping on this trip are Wanas.

LEADERSHIP:  It is a big commitment to provide timely help and training for missionaries. Field leader Doug (far left) and the Asia Pacific leadership team took the initiative to bring Bill over to help their missionaries.
THE CONSULTANT: We flew about 9,000 miles so Bill could help missionaries like Rofi make better progress in their language learning. Bill shared what he has learned over the last 35 years to train others to provide that kind of help for missionaries.
THE CONSULTANT TRAINEES: Michael and Elke came along to learn how to do the language assessments Bill was doing and how to help the learners implement some new techniques. In the end, we all learned from one another… and the missionaries received some good help.
THE NATIVE SPEAKERS: Last by definitely not least, Papa Wira and his friend are helping the missionaries learn their Da'a language, and they came to help us assess Rofi and the others' progress. They were a big help, patient and cheerful.
But That's Not All!
You are also a vital part of the team. Your prayers, financial support and words of encouragement keep us going!
But… How In The World…?
How can Bill evaluate missionaries' progress in a language he doesn't know? And how can we help them learn it faster? Good questions…
…we'll tell you about that in our next update.